Great Place
to Work
Victoria Electric Cooperative, as an equal opportunity employer, provides a multitude of benefits for its employees. Providing service to over 19,487 residential meters and 3,034 commercial meters, there is always something to be done. Phasing out to become a service provider to all VEC members, our internet company Infinium is also working behind the scenes to grow. Competitive compensation is offered to all employees at VEC and Infinium, as well as terrific medical benefits accompanied by an employer-funded health savings account. Tremendous opportunities await those who are looking forward to prioritizing their career with Victoria Electric Cooperative or Infinium. Learn more about career opportunities with Victoria Electric Cooperative and the great benefits which await you today.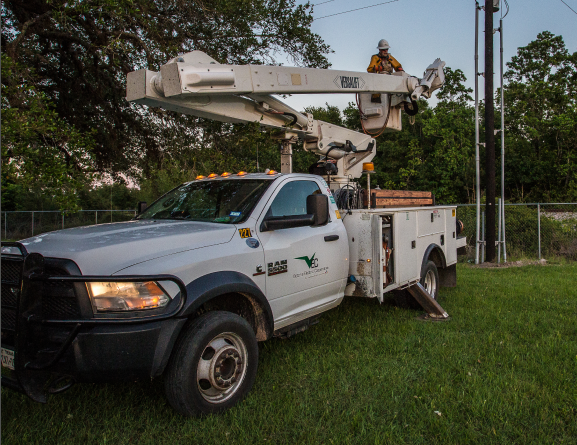 Great Place
to Live
The Crossroads region is a great place to live as Victoria Electric Cooperative and Infinium Internet have both made their home within the community here. Because the employees of the Victoria Electric Cooperative and Infinium both live and work here, they share many of the same concerns of the residents here regarding health and membership within the community. Dedicated to improving the surrounding areas of the Crossroads Region, the quality of life here only continues to increase due to the outstanding work our employees complete day in and day out. Explore why Victoria and The Crossroads region is thriving in this industry.
Outstanding Medical Benefits
401k & R&S Retirement
Competitive Compensation
Paid Vacation and Sick
Equal Opportunity   
Victoria Electric Cooperative is an Equal Opportunity Employer
Open

Positions
Operations Manager
The Operations Manager is responsible for all electric distribution operations, construction and maintenance functions of the Cooperative; including, but not limited to, management of the Operations Department personnel. Practical application of skills in a related type of organization for a minimum of ten (10) years is required. Experience in an Electric Cooperative is preferred. Candidate should possess demonstrated management expertise with minimum three (3) years' experience. Normally, the successful applicant would have pursued a systematic lineman training program, served as an Apprentice Lineman through Journeyman Lineman and a related supervisory position.
Network Analyst
The Network Analyst will be developing, implementing and supporting complex networking solutions to address a variety of the internet business needs. This position serves as a liaison and onsite resource for network configurations (i.e. routing and switching core infrastructure and network management tools. The position will also participate in network infrastructure, provision new equipment for new customer base and attend architectural discussion to ensure solution are designed and successful implementation. Bachelors Degree in Computer information technology preferred with a minimum of 3-5 years experience with service provider network design and support. Understanding and application in network protocols is necessary. 
GIS Technician
The  GIS Technician is responsible for providing mapping services to all Cooperative Departments and maintaining the Geographical Information System (GIS) and its ancillary software and systems. Responsible for interpreting civil and engineering information to create maps, exhibits, datasets, reports and presentations. Performs analysis or queries to assemble data and prepare reports, tabulations, charts and maps from asset information in connected model and various other data sources. Exports GIS data to validate and produce accurate Engineering Analysis models. Uses AutoCAD to update GIS new subdivisions, lots, buildings and pavement. Minimum of a two-year degree in Geographic Information Systems, Cartography, Computer Science or related computer-aided design field preferred.  Five (5) years ESRI ArcGIS products required. Familiarity with UPN and Futura desirable. Will consider combination of equivalent experience.
Staking Technician
The  staking technician designs, stakes, maps and inspects primary, secondary and service installations for new services, system improvements, sectionalizing equipment and retirements of existing facilities in compliance with Rural Utilities Services (RUS) specifications and the National Electrical Safety Code (NESC) that provides safe, prompt, efficient and reliable electric service to Victoria Electric Cooperative's (VEC) members. Responsible for interacting and collaborating with operations and line crews. High School Diploma is required. Two plus year's experience in electrical distribution staking or design is preferred. Knowledge of geographic information systems (GIS) for updating and ability to review and understand maps, subdivision plots, railroads, highway and other utilities in connection with preparing new system maps for locating distribution lines. This position is primarily outside in varying weather conditions. 
Warehouse Helper
The  warehouse helper will , receive and distribute materials from inventory, assist with inventory control and process paperwork to efficiently control cost, monitoring to keep cost of electrical services to our members as low as possible. Responsible to complete paperwork daily, computer data entry and documenting receipts and distribution. Will also be responsible for servicing the broadband business with distribution and receiving of broadband materials. HSD or equivalent is required. Must be able to lift 50lbs and occasionally more than 50lbs, climbing, kneeling, reaching overhead, pushing and pulling. Must be able to communicate effectively, verbally and written. 
Apply Below
Victoria Electric Cooperative offers competitive compensation, outstanding medical benefits, employer-funded health savings account, 401k with 6% match, retirement and security pension plan, onsite gym, Cooperative discounts, paid vacation, sick leave, and much more! Don't miss out on this tremendous opportunity.