Great Place
to Work
Victoria Electric Cooperative, as an equal opportunity employer, provides a multitude of benefits for its employees. Providing service to over 19,487 residential meters and 3,034 commercial meters, there is always something to be done. Phasing out to become a service provider to all VEC members, our internet company Infinium is also working behind the scenes to grow. Competitive compensation is offered to all employees at VEC and Infinium, as well as terrific medical benefits accompanied by an employer-funded health savings account. Tremendous opportunities await those who are looking forward to prioritizing their career with Victoria Electric Cooperative or Infinium. Learn more about career opportunities with Victoria Electric Cooperative and the great benefits which await you today.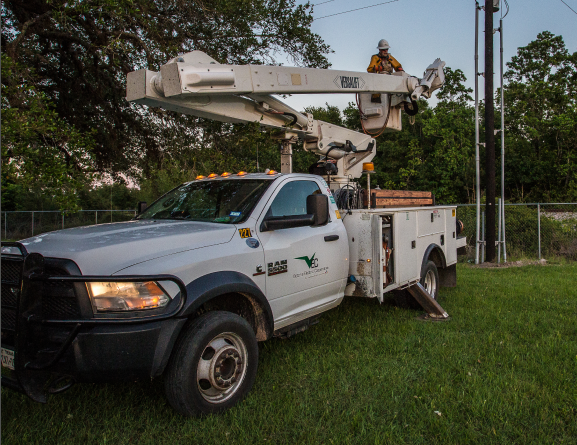 Great Place
to Live
The Crossroads region is a great place to live as Victoria Electric Cooperative and Infinium Internet have both made their home within the community here. Because the employees of the Victoria Electric Cooperative and Infinium both live and work here, they share many of the same concerns of the residents here regarding health and membership within the community. Dedicated to improving the surrounding areas of the Crossroads Region, the quality of life here only continues to increase due to the outstanding work our employees complete day in and day out. Explore why Victoria and The Crossroads region is thriving in this industry.
Outstanding Medical Benefits
401k & R&S Retirement
Competitive Compensation
Paid Vacation and Sick
Equal Opportunity   
Victoria Electric Cooperative is an Equal Opportunity Employer
Open
Positions
Operations Manager
The Operations Manager is responsible for all electric distribution operations, construction and maintenance functions of the Cooperative; including, but not limited to, management of the Operations Department personnel. Practical application of skills in a related type of organization for a minimum of ten (10) years is required. Experience in an Electric Cooperative is preferred. Candidate should possess demonstrated management expertise with minimum three (3) years' experience. Normally, the successful applicant would have pursued a systematic lineman training program, served as an Apprentice Lineman through Journeyman Lineman and a related supervisory position.
Network Engineer
Network Operations Engineer will be develop, implement, and support complex networking solutions to address a variety of the internet business needs.  Serves as liaison and onsite resource of network configurations (i.e. routing and switching core infrastructure) and network management tools. Must consistently maintain a thorough understanding of customers' environment to assist support for network techs and service teams in serving network customers.
Broadband Internet Manager
Infinium is a rapidly growing broadband internet division of Victoria Electric Cooperative. The Broadband Internet Manager is responsible for overall growth, profitability and success of Infinium Broadband Internet through planning and implementation of plans to provide results and high customer satisfaction, within the limits of approved board policies, operating guides, procedures and decision-making authority. This position will ensure strategic and tactical planning are in alignment in order to position Infinium as competitive provider of broadband internet services. 10+ years of pertinent combined education and experience required. Bachelors' degree in Information Technology and Networking, Communications Management or Computer Engineering preferred.
Engineering Manager
The Engineering Manager manages a team and provides support and assistance to the Operations Manager and shall accept the responsibilities, authorities and relationships of the position. This position will manage the resources allocated to achieve agree upon results in all areas assigned. The position is responsible for to assure all electrical facilities are constructed, maintained and operated to industry accepted standards in accordance with sound engineering design. Ensuring that electrical facilities meet RUS standards and code requirements and provide adequate planning including long and short range plans and programs for the development of distribution and substation facilities. Ideal candidate should have a working knowledge of electric properties, equipment and procedures. A bachelors degree in Electrical Engineering and Professional Engineer license is preferred. 
Marketing/Communication Specialist
The  Marketing/Communication Specialist is responsible for developing and maintaining an effective education and information program with members and the general public to promote the goals and objectives of the cooperative, including designing, writing and printing publications and marketing materials. This position is also responsible for the marketing plan and the marketing of Infinium, working in alignment with management. Marketing/Communications bachelors degree preferred. Prior experience in creating and developing marketing and sales plans in a fast paced and changing environment. Will consider equivalent experience and training in proven marketing, communication skills.
Apply Below
Victoria Electric Cooperative offers competitive compensation, outstanding medical benefits, employer-funded health savings account, 401k with 6% match, retirement and security pension plan, onsite gym, Cooperative discounts, paid vacation, sick leave, and much more! Don't miss out on this tremendous opportunity.